Founding and Early Journey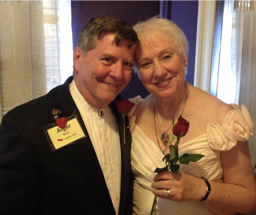 God began preparing Alger and Gloria Marsh to lead an organization that became known as House of Myrrh Ministries (HOMM) long before that organization ever existed. After nine years working with Wycliffe Bible Translators (WBT) in Papua New Guinea, God had sent Alger and Gloria Marsh back to the United States with this mandate: help prepare the bride for the Bridegroom. They didn't know what that would look like. On their way to the USA, the Marsh family traveled through Europe. At a YWAM center, several prophesies came about the fact that as they followed "the star," God would lead them, step by step, into what He had in store for them.
They took a leave of absence from WBT and began working in Bethlehem Church with missions and youth. After that decision was made, they received their first copy of the monthly mailing: "The Bethlehem Star." God kept sending visitors, including missionary friends and needy people, to stay awhile with them in their two bedroom condominium. In time, this helped bring about a family housing crisis: the Tigard condominium was too small.
They purchased a home in West Linn. Their son Devin began bringing friends home for overnight stays, then longer periods: "They need a good place to stay for awhile." Before long, they were involved in "reparenting." Youth and young adults began coming to live with the Marshes for six months to 3 years in order to "grow up healthy." They learned to trust, to risk, to believe in themselves, and to walk with God.
With their leave of absence coming to an end, Alger and Gloria asked God what to do next: That year, 1985, He brought them together with Christian Missionary Educators (CME). As Alger and Gloria considered their next step, God gave each of them a series of dreams. One common aspect of those dreams was the fact that foundations of buildings were shaky. As they waited on God for understanding, some of the basic principles of Alger's studies in Business and Economics were being contrasted with God's current desires for the new ministry. He made clear that they were never to "use" people — they were to love people and accept them, right where they were. They were not to search for people who could fill needed tasks in their organization; they were to let God bring people of like mind and heart, and then He would fit their skills into whatever tasks were needed. Alger and Gloria were to continue searching for distinctions between God's ways and man's ways.
Soon, HOMM (initially as HOM) was organized as a department of CME. In 1991, the CME board made the decision to limit CME's work to international students. Because much of Marshes work included other categories of people, they were asked to incorporate or find another organization to work with. Youth With A Mission (YWAM) Portland was considering the establishment of a discipleship house in the near future; it seemed a good match. HOMM became a department of that organization. Their primary work was to continue reparenting. After a couple of years, YWAM decided they weren't going to set up a discipleship home. They encouraged Alger and Gloria to incorporate if they wished to pursue their vision. In 1993, HOMM was incorporated as a 501(c)3 organization; the focus was still reparenting and discipleship.
As part of their work, Marshes also wrote and produced encounter style dramas. It was great for discipling both the cast and the audiences. These were presented in churches, public school buildings, Christian schools, and public parks. Casts were obtained from many different churches. They presented seminars on various topics for church groups, including Stephens Ministry groups. But their heart was always to bring God's people to greater maturity and wholeness.
It became apparent that a larger facility was needed. After praying and searching for almost a year, the Tualatin property was located. It was logically impossibility for HOMM to purchase the $300,000+ property. Just the mortgage payments and taxes would equal the total income HOMM had received in each of the five previous years. Yet it seemed clear that God way saying "Go for it." Quite a number of people told them that during prayer they got Isaiah 54:2-3 for them: ""Enlarge the place of your tent, stretch your tent curtains wide, do not hold back; lengthen your cords, strengthen your stakes. For you will spread out to the right and to the left; your descendants will dispossess nations and settle in their desolate cities." They met with their Board of Elders to pray and plan how to proceed. They received advise from fundraisers in other ministries. Then they began publishing their plans to their constituency. In obedience, they paid the earnest money. For seven long months, they prayed and worked, watched and waited for God to provide. Of course, their regular ministry didn't decrease — they just added the new chores to an already overfilled schedule. Lessons from Joseph, Moses, Joshua, Caleb, Jesus, Paul, and a host of others helped them see that initiating a work for God is NOT simple or easy. Yet through their dedicated alumni, the funds kept coming in. Remodeling to make the buildings more suitable for the needed purposes brought added stress: they didn't have the skills needed for the chores. For example, a full kitchen was donated, but it was two years before someone came to begin installing it. A year later, it was finished. Discouragement, personal sacrifice, persistently holding on to the word God had given … these hallmarks of life brought growth in a number of ways. We followed God's directions, and with His provision, the work continued to increase.
The observable growth for people they were reparenting often seemed tiny, slow, and limited to so few people at a time. They began praying for a much better, more effective way to bring God's wholeness to His people, His body. God led them to experience the intensive workshop method. During this transition, God began to stir other people to join the ministry, expanding the number of staff committed to serving through HOMM. Again, the start up period for the new aspect of ministry brought some added stress. Winter classes in the unheated workshop room saw everyone huddling in coats and blankets. How thankful we were when the heaters were installed! Organization was in transition: certain structural elements were tried, and some were total failures. Yet God remained faithful, and even during this period of time, people received new life and freedom. PTL!
The workshops take a major share of HOMM's (and Alger and Gloria's) time and resources. Workshop participants are often able to grow as much in the four days of the first workshop as other people did during a couple years of living with the Marshes. With four different follow up workshops for participants, plus workshops to train our new leadership, much more is now being accomplished in preparing the bride for her Bridegroom. And the range of people being helped has been greatly extended: from those trapped in addictions, prebelievers, and hurting Christians, through the "average" and deeply dedicated Christian, to pastors and missionaries including the mature examples of Christ — all are able to find new hope, zeal and freedom through the workshops. Awesome! The pain was worth it.
A rapidly growing area for us is using and training others to use prayer as the basis of letting Jesus be the Counselor, individuals are often radically changed from the inside out. When we humans set the stage and then step aside, Jesus can truly minister. That's what we want. After all, He is the One who can truly accomplish what is needed.
Other aspects of our ministry include encouraging people to gather in small groups for many reasons: Bible study, body ministry, accountability groups, healing of all kinds — all bathed in prayer and based on the Word. God loves to bless His people as they develop oneness, growing in community. As people develop their spiritual giftings, not only do they grow personally but they help others to grow as well.
Through these prayer saturated activities, Jesus shows up in such a way that "the blind see, the lame walk, lepers are cleansed, the deaf hear, the dead are raised, and the wretched on the earth have God's salvation hospitality extended to them." Luke 7:22b The Message.
Our doctrine is based on The Apostle's Creed
I believe in God, the Father almighty, creator of heaven and earth.
I believe in Jesus Christ, his only Son, our Lord, who was conceived by the Holy Spirit and born of the virgin Mary.
He suffered under Pontius Pilate, was crucified, died, and was buried; he descended to hell. The third day he rose again from the dead.
He ascended to heaven and is seated at the right hand of God the Father almighty.
From there he will come to judge the living and the dead.
I believe in the Holy Spirit, the true Christian Church of all times and places, the communion of saints, the forgiveness of sins, the resurrection of the body, and the life everlasting. Amen.
We believe in the inerrancy of the entire Bible as the divinely inspired Word of God.
We believe God is three in one: Father, Son, & Holy Spirit.
We believe Jesus Christ is God, took on human flesh through a virgin birth, died on a cross to pay for our sins, bodily rose from the dead, ascended to the right hand of the Father, and will one day judge the living and the dead, reigning as King over all.
We believe all men are sinners and unless and until they receive by God's Spirit the gift of God's redemption through the atonement of Christ before their death, they are eternally damned. The redeemed have heaven to eternally enjoy with God.
We believe the presence and power of the Holy Spirit is essential for every believer for holiness, growth, and victorious living. The Spirit also makes all believers in our Lord Jesus Christ into one body.
Our doctrine is based on The Apostle's Creed
House of Myrrh Ministries is a Christian organization committed to serving people by offering specific activities designed to provide spiritual and emotional growth. Our passion is to help others experience Christ and His powerful transformation and freedom personally through God's love and truth, and corporately through the interaction of His community.
How do we walk out this mission? Currently, these endeavors are being accomplished primarily through:
Heart Workshops

HeartChange:who I am/experiencing the Father's heart for me.
HeartDesign:why I am/experiencing the Bridegroom's heart for me.
HeartsOverflowing:how I accomplish my design/experiencing the heart of the Holy Spirit for me.
HeartsTogether:learning to express unconditional love/growing in unity with my spouse.
Kids HeartChange:HeartChange for ages 10 through 13.

Home Bible and ministry groupsshowing and encouraging others how to grow in Christ corporately and personally through interaction with each other and God.
Training and using healing prayer, with Jesus as the Mighty Counselor, for spiritual, emotional, and physical restoration.